Serie APE
Subscribe to RSS Feed

Grinding Machines Serie APE - Twist Drills Sharpening Machines
The APE series is a line conceived for sharpening twist drills, taps and countersinks. It 'also an effective sharpener for step drills and big diameters.
The grinding machines are equipped by accessories that make the series flexible for sharpening any tool.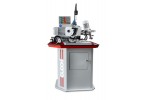 Sharpening machine for twist drills, countersinks, taps, step drills, expander drills, counterbore.